Audio
Blaupunkt Phoenix MP33 Review and Tips
The 15 year-old Blaupunkt Reno AM/FM/Cassette in my 928 was well past its time for replacement, but I was having trouble finding exactly the right head unit. I wanted something that would play MP3 CDís, but it needed to have the right look and feel for my í87 928. When I saw the Blaupunkt Phoenix advertised in a Crutchfield catalog, I took a long, close look at it, and decided to go for it. I installed it a couple weeks ago (mid-July 2003) and have been enjoying it on a daily basis. Definitely the right choice for what I wanted.





Here are some of the positive points:

* All-black face looks right at home in the 928 dash
* Protruding rotary volume knob (just like the Renoís!)
* Plays regular CDís as well as MP3 files saved to CD-Rís and CD-RWís
* No skips over railroad tracks or huge bumps on the DC beltway. Thatís right, none!
* Display is readable in all lighting conditions, even with the sunroof open


This radio is part of Blaupunktís "value" line, so it doesnít have any fancy features:

* The display can not be dimmed, and the blue button illumination is a bit too bright at night
* No speed-sensor automatic volume control
* No Line-In jacks. Not even an option for it
* Only one pair of Line-Out jacks


I almost did not buy the unit because of its lack of Line-In jacks, since this eliminates the possibility of future expansion with something like a hard drive MP3 player. But, in the end, I felt that all the positive features outweighed this shortcoming.

The lack of front and rear Line-Out jacks means that you can not just drop this unit into a 928 and retain use of the factory Blaupunkt amp (mounted under the cover next to the passenger seat). So, I decided to bypass the factory amp, which required me to run four pairs of wires from the Phoenix to the factory amp location. I used speaker adapter cables (provided by Crutchfield at no cost, with radio purchase) to attach the speaker wires to the plugs that used to go into the amp. When placing your order, mention that you need two of item# 120701693, Audi/BMW/Porsche Wire Harness. They come in pairs, so you need two pairs to cover the four channels.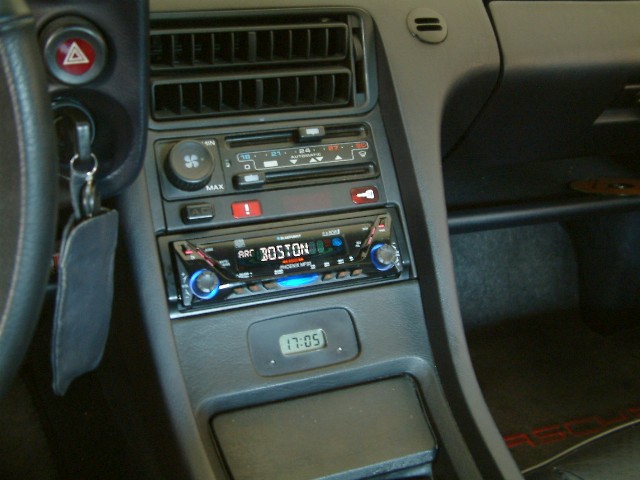 It took me close to four hours to do the entire installation, but Iím slow and meticulous. The sound is excellent, the unit operates perfectly, and I am pleased to recommend this unit to other 928 owners.

In preparing MP3 CDís for the Phoenix, I found out that there is a vast array of tools available for "ripping" tracks from your CDís and creating MP3 files. There are also many settings for these tools that affect the quality of the MP3 files and the speed at which they are created. It took me a couple hours of trying different settings until I settled upon the best ones for my situation. I could write ten paragraphs to explain the rationale behind my decisions, but I donít have time to do that, so Iíll just briefly tell you what I recommend.

Download CDex from http://cdexos.sourceforge.net and install it. This program reads audio CDís and creates MP3 files on your hard drive. It automatically creates a directory structure based upon Artist and Album name. It also pre-pends the track# to the file name of the album file, which means that the tracks will play in proper order on the Phoenix. Here are the settings I use:




For me, it was important to set the "Ripping Method" to "Paranoia, Full" because the default method resulted in very slow processing of the last song or two on the CD.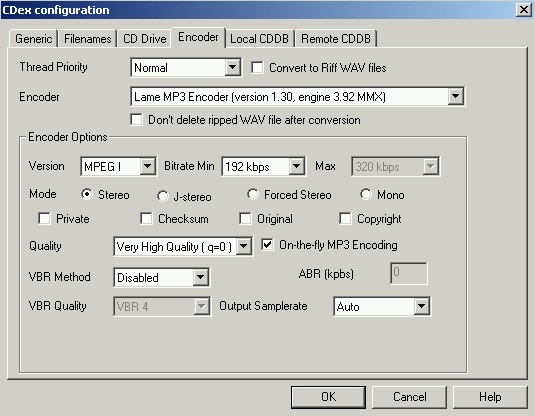 I elected to go with the Lame encoder at 192 kbps because I could hear small defects at lower rates, using high-quality headphones. I used a fixed bit rate (as opposed to VBR) because I saw VBR cause some confusion on both Windows Media Player and the Phoenix with regard to track lengths and the ability to use the "rewind" function. With these settings, I am able to fit 10 to 12 albums onto a CD-R, which is good enough for me.

Once you have your MP3 files created, you will need to copy your MP3 directories to CD-R. I used software that came bundled with my CD-ROM drive to do this.

+Greg Nichols
Alexandria, Virginia
'87 928S4, 5-speed, Venice Blue Metallic